Zahl politischer Gefangener in Belarus auf Rekordhoch
Lesedauer
3
Minuten
Seit den Protesten gegen das gefälschte Wahlergebnis vom August 2020 gehen die Behörden massiv gegen die Zivilbevölkerung vor. Die Zahl politischer Gefangener hat ein neues Rekordhoch erreicht.
Nach Auskunft der Menschenrechtsorganisation Vjasna befanden sich am 3. Februar 2022 mittlerweile 1.036 politische Gefangene in Haft in belarussischen Gefängnissen.
Political prisoners in Belarus
Bloggers, businessmen, presidential campaign members and peaceful protesters are held in prisons only because they were not afraid to exercise their rights – the right to participate in peaceful assemblies, to express their opinion and to be involved in political activities.
Gingen die Behörden im Frühjahr 2020 vor der Wahl noch vornehmlich gegen exponierte belarussische Oppositionelle und Blogger vor, laufen seit 2021 zahlreiche politische Prozesse auch gegen einfache Bürger wegen ihrer Teilnahme an Protestaktionen. Zudem zerschlagen die Behörden zahlreiche private Vereine und Initiativen. Zudem wurden mehr als 40 Verteidigern die Lizenz entzogen.
In der Zeitschrift Osteuropa ist ein umfangreicher Bericht der Organisation Vjasma abgedruckt.

Zeitschrift OSTEUROPA | "Der Willkür sind keine Grenzen gesetzt"
OSTEUROPA ist mehr als eine Zeitschrift. Wir analysieren Politik und Kultur, Wirtschaft und Gesellschaft im Osten Europas als Teil der globalisierten Welt. Monat für Monat, seit 1925.
Die Lektüre ist ein Requiem
Rund 60 aus dem Bereich Bildung und Wissenschaft, knapp 50 aus dem Bereich Kultur und Literatur; 50 Wohlfahrts- und Gesundheitseinrichtungen, über 25 Sportclubs, rund 20 Naturund Tierschutzvereine, ebenso viele aus dem Bereich Familie und Jugend. Die Liste, auf der der Belarussische Journalistenverband ebenso steht wie der Handballclub ,,Vitjaz" aus Minsk, das Belarussische Helsinki-Komitee ebenso wie eine Imkervereinigung, liest sich wie ein Telefonbuch der freien und vielfältigen Gesellschaft.
Die EU kritisierte das Vorgehen der Behörden in Belarus scharf. Ein Sprecher der EU Kommission sagte dazu
Belarus must adhere to its international commitments and obligations within the UN and OSCE. The EU reiterates its demand for the immediate and unconditional release of all political prisoners. The EU will continue to work for justice for victims and accountability for perpetrators.

EU Commission Spokesman
Die EU-Sanktionen gegen Belarus wurden jüngst nochmal verschärft. Auch die USA haben in dieser Woche Sanktionen und Visabeschränkungen für belarussische Staatsbürger wegen ihrer Verwicklungen in Angriffe auf Dissidenten verhängt. Washington forderte Lukaschenko erneut auf, "sein hartes Vorgehen gegen Mitglieder der Zivilgesellschaft, unabhängige Medien, die politische Opposition, Sportler, Studenten, Juristen und andere Belarussen zu beenden".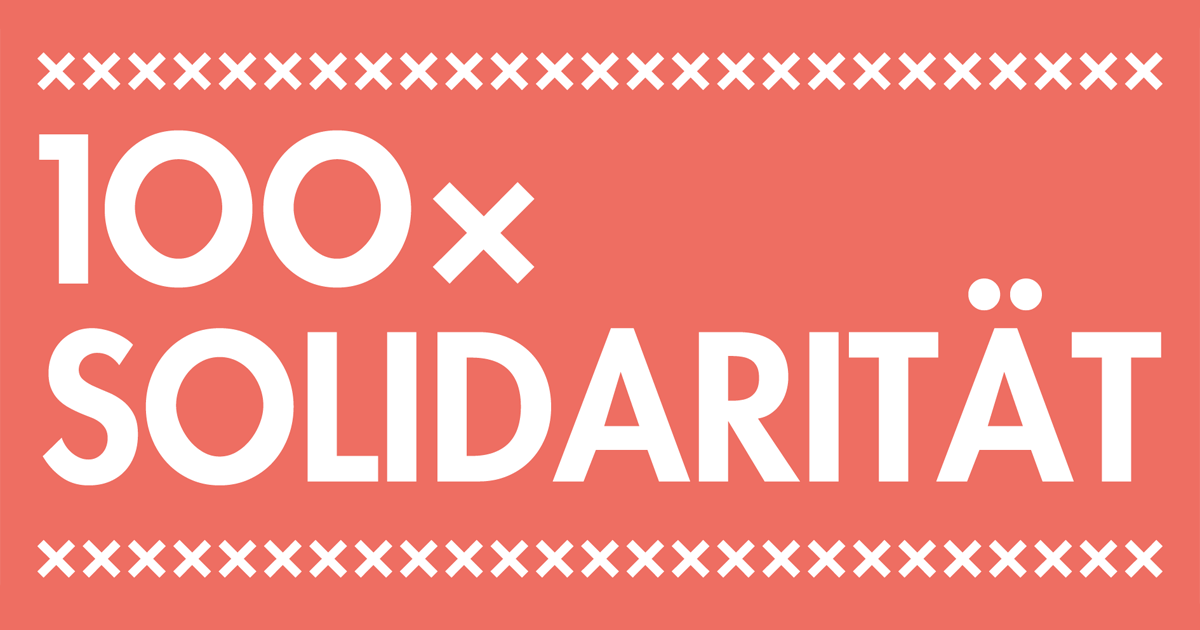 100 × Solidarität mit den politischen Gefangenen in Belarus
Gemeinsam für die Freiheit: Persönlichkeiten des öffentlichen Lebens in Deutschland fordern die sofortige Freilassung der politischen Gefangenen in Belarus. #WeStandBYyou!
---
Der Batka und der Starze – ralupo.me
Es ist nun schon mehr als ein Jahr her, als in den heißen Augusttagen des Corona-Jahres 2020 in #Belarus im ganzen Land die Menschen zu Zehntausenden auf die Straße gingen und friedlich gegen die gefälschten #Wahlen protestierten. Einige Tage lang schien es tatsächlich so, als könnten sie den "letzt…